Sign up for an account to add new pictures
Signing up for an account lets you use any picture on the internet for colouring! Simply find a photo you or your child likes, e.g. by searching for "unicorn coloring pages" on images.google.com, save it to your iPad or computer, then load it here.
Sorry, your device is not supported
Kidz Fun Art
requires a relatively modern internet browser to function, and yours is not sufficiently up to date. If you have another browser you can try opening this app there at
https://kidzfun.art

Please connect to the internet
Sign up for an account to export Gifs
An account also lets you load any picture for colouring or copying from your device
Your was sent to your email
Repeat the Frame
How many times would you like to repeat this frame when playing the video?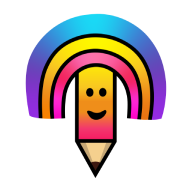 Rotate To Landscape
Or watch a demo
Kidz Fun Art is optimised for tablets & computers